It's the last day of July. Sand through fingers, vapors in the wind, all of that — it's true. It just disappears. No matter how deeply you savor, how much of its pain and beauty you try to memorize, how thankful you purpose to be, these moments just fly.
July, especially. My, did it fly.
So now I'm a solid month of photos and happenings behind on this blog, my little record of family life. It's Thursday afternoon, and after four days of a blessedly quiet week, my soul (and my house, for that matter) are starting to catch up. I can sit and do photos, at last.
*****
The Fourth of July. Reading and discussing the Constitution, the Declaration, the heroism of men who choose courage and principle that would benefit us. Not for their own sake, but for us, they signed their names on that Declaration, as good as a death sentence. Courage: Choosing the right thing in the face of fear. Not everything they did was perfectly right, I know, but acting out of selfless principle and with courage, as men ought to do? That is pretty right. What a good heritage. Dressing in red, white, and blue. Heading to a local parade, joined by most of my clan. Spending a lazy afternoon on the side porch together, and ending things with pound cake topped with berries and loosely whipped cream. Perfect.
And then, a few days later, there was a trip to Maine. The kids, my generous sister, and me. It was absolutely wonderful.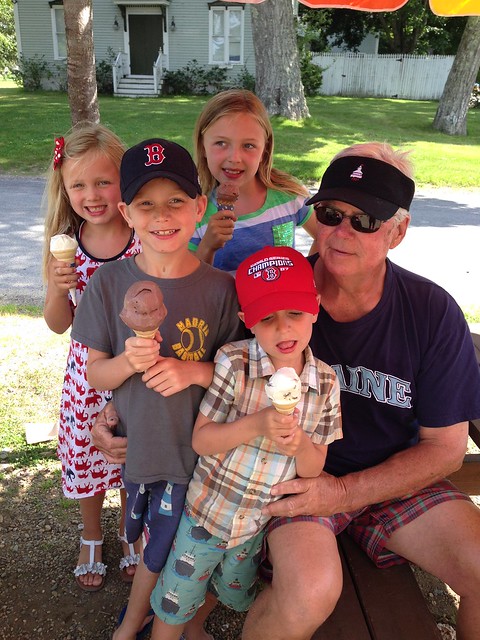 There was good food, which the kids keep talking about. There was the pool, from about 7:30am till dinnertime and maybe even after. There was whiffle ball and golf, water balloons and bubbles. Dress up! Excursions to the rocky shore. A morning at a quiet beach inhabited by hundreds of hermit crabs. Rooftop views. Ice cream cones. Babies napping long, children playing hard, grown ups soaking in sun. Cousins we seldom see, aunts and uncles we love. Lots of tears the evening before our departure, because this was the time of their lives. Special memories. This little family went home feeling very loved by Papa and Meme.